What is the Difference Between 4×4, AWD, FWD, and RWD?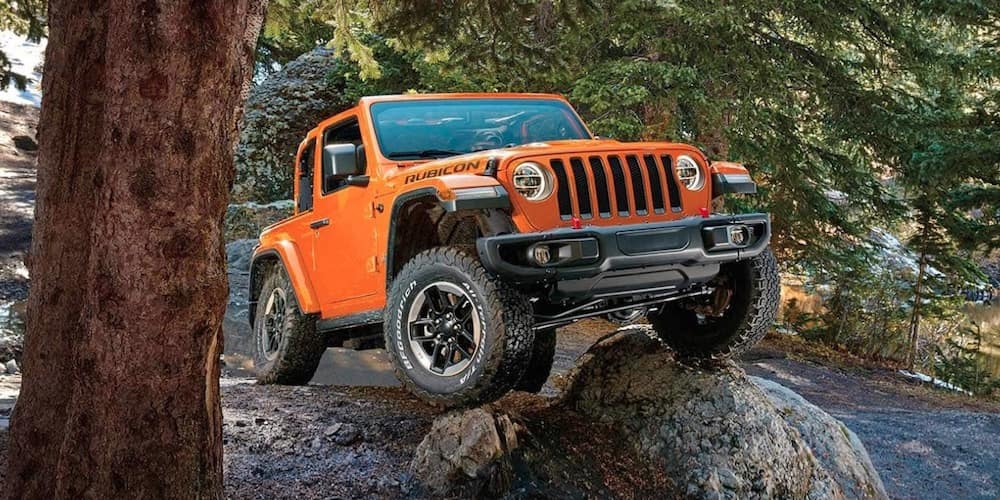 If you're shopping for a capable Jeep SUV or beastly RAM truck at our Grapevine dealership, then chances are that you're someone who isn't afraid to kick up some dust or get a little mud on the tires now and then. When it comes to off-road travel, though, it's all about which wheels are turning. So what sort of drivetrain are you after, and what's the difference?
Four-Wheel Drive (4WD, 4×4)
4×4, at its core, refers to how many wheels you have–four–and how many of them are powered–all four. Using either a clutch or center differential, a full-time four-wheel drive system sends power to all four wheels at all times. This system is designed to operate with power to all four wheels under all circumstances, from tough terrain to clean, dry pavement.

A part-time four-wheel drive system is similar, but drives as a two-wheel drivetrain by default. When you need added traction, you can switch to 4×4 to lock the front and rear driveshafts to turn all four wheels. With part-time four-wheel drive, you should only be using 4×4 mode on tough terrain; using it on normal roads or for extended periods can lead to premature terrain. On-demand 4WD systems are like part-time 4WD drivetrains, but they switch to 4WD automatically when certain conditions are detected.
All-Wheel Drive (AWD)
Like four-wheel drive, all-wheel drive sends power to all four wheels at all times and can be used under all driving circumstances. Unlike 4WD, though, AWD doesn't provide a "4-low" setting for especially tough circumstances like being stuck in the mud or climbing a steep incline. AWD is great for normal driving in less-than-ideal situations, but true off-road warriors will opt for 4WD to get the "4-low" setting.


Two-Wheel Drive (FWD, RWD)
Like the name suggests, two-wheel drive systems send power to just two wheels; either the front or rear wheels receive power. Typically, sedans and SUVs will default to FWD (the F is for "front," not "four"), while RWD is typically assigned to sport cars for more aggressive handling or pickup trucks for optimum performance when carrying a load in the bed.

If your vehicle is equipped with part-time 4WD, it will be in either FWD or RWD until you manually switch to 4WD. For many drivers, this is an ideal setup for driving during normal commuter conditions while still being prepared for off-road or foul weather conditions.
Which is Right for You?
Ultimately, the choice will depend on the vehicle you're after, the type of driving you do, and the conditions you expect to encounter. Jeep and RAM offer a wide array of 4×4 drivetrains, though, so you can certainly find the best fit for you by talking to the team here at Grapevine Dodge Chrysler Jeep RAM. For more information, or to come and test out a few vehicles for yourself before deciding, be sure to contact us by calling (817) 778-4172 today.
Sales Hours
817-856-2539
| | |
| --- | --- |
| Monday | 9:00 am - 9:00 pm |
| Tuesday | 9:00 am - 9:00 pm |
| Wednesday | 9:00 am - 9:00 pm |
| Thursday | 9:00 am - 9:00 pm |
| Friday | 9:00 am - 9:00 pm |
| Saturday | 9:00 am - 9:00 pm |
| Sunday | Closed |
Service Hours
817-856-2532
| | |
| --- | --- |
| Monday | 7:00 am - 7:00 pm |
| Tuesday | 7:00 am - 7:00 pm |
| Wednesday | 7:00 am - 7:00 pm |
| Thursday | 7:00 am - 7:00 pm |
| Friday | 7:00 am - 7:00 pm |
| Saturday | 7:00 am - 5:00 pm |
| Sunday | Closed |
Parts Hours
817-856-2521
| | |
| --- | --- |
| Monday | 7:00 am - 7:00 pm |
| Tuesday | 7:00 am - 7:00 pm |
| Wednesday | 7:00 am - 7:00 pm |
| Thursday | 7:00 am - 7:00 pm |
| Friday | 7:00 am - 7:00 pm |
| Saturday | 7:00 am - 5:00 pm |
| Sunday | Closed |